by Dr Rob Liddiard, University of East Anglia
During the Second World War, Dunwich Heath was one of the heaviest defended parts of the Suffolk coastline with a radar station, coastal artillery battery and anti-invasion defences. Later in the war, the heath was an important training ground. Systemic clearance after the war means that only a small amount of the wartime archaeology now remains.
Radar Station
Image: Aerial photograph from 1949 showing the radar station and battery on Dunwich cliff (Stuart Bacon, Suffolk Underwater Studies)
Emergency Coastal Defence Battery
Image: Staged propoganda photograph taken from inside the right hand gunhouse of the Minsmere battery, 1941.
Anti-Invasion Defences
Image: Spigot mortar pedestal under excavation with a modern replica mounted in place (National Trust)
Training
Dunwich Heath was part of what was known as the Dunwich training area, which was established early in the war. Throughout the conflict, hundreds of troops and tanks used the heath for training purposes as live firing could be carried out without hindrance. The Dunwich training area was particularly important in pre-D-Day training. In 1943, it was the setting for exercise 'Kruschen', which was one of the first exercises to trial the specialised equipment that would be needed to break the concrete defences of the German Atlantic Wall.
Image: Painting by war artist Edward Bawden of Exercise 'Kruschen' showing a man practicing with a flame-thrower on the heath in 1943 (Imperial War Museum IWM Art LD 2890)
Post-War Clearance
Image: An Army Bomb Disposal team clearing ordnance during the 1960s (National Trust).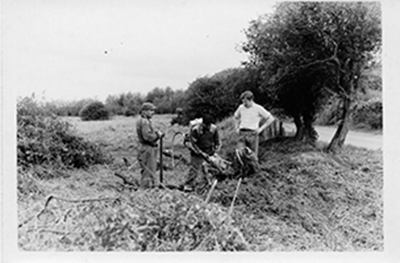 ---
Bawdsey Battery
defence works became necessary due to the risk of invasion
Discover More »
Minsmere
a mixture of medieval and modern archaeological remains
Discover More »
Second World War Guidebooks
a series of four guidebooks to Suffolk's Second World War archaeology
Discover More »