Upcoming Events
no upcoming events
Recent Events
Sunday 19 June, 10am-4pm, Suffolk Young Farmers Country Fair
at Stonham Barns, Stonham Aspal, IP14 6AT
Adults £10 / Children £5, Tickets on the gate
We will be brining a display about the Rendlesham Revealed project and our finds handling collection. Our finds recording team will be on hand to answer questions about artefacts. Have you found any archaeological objects recently? Bring them along to be identified.
Find out more at stonhambarns.co.uk
Saturday 11 June, 11am-5pm, The Rendlesham Show
at the Jubilee Park, Rendlesham, IP12 2GT
FREE, booking not required
We will be at the Rendlesham Show with displays on the archaeological results and some of the excavated artefacts uncovered during summer 2021, as part of their Rendlesham Revealed project. Have you recently found any archaeological objects? Bring them along and our finds recording team can help to identify them.
Find out more at rendleshamshow.co.uk
Friday 20th May 2022, Rendlesham Revealed Celebration Event
at The Corn Exchange, Ipswich
FREE, booking not required
Find out more at heritage.suffolk.gov.uk
---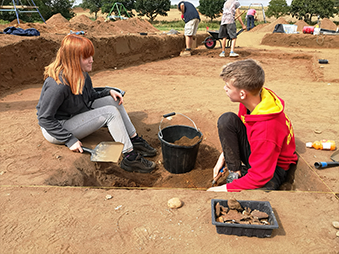 Community Fieldwork
the latest updates and how to get involved
Discover More »