Between 1974 and 1990 Suffolk County Council Archaeological Service (then Suffolk Archaeological Unit) excavated 34 sites within the historic core of Ipswich town, producing an archive of national and international importance.
The finds archive is currently curated by Colchester and Ipswich Museums Service. The paper archive associated with these finds is held within the Suffolk County Council Archaeological Service archives.
This archive was consolidated during 2009-2015 through an English Heritage (now Historic England) funded project called the Ipswich Historic Core Excavation Archive Project and made accessible for research. Since then, between 2015-2017, the Archaeological Service carried out the Ipswich Urban Archaeological Database project, funded by Historic England, to enhance the Historic Environment Record to national standards.
For more information about the excavations, including a full list of excavated sites, please see the digital archives held online with the Archaeological Data Service here:
Excavation Archive Report and Interactive Map
discover the 36 excavations which took place on on 34 sites across Ipswich between 1974 and 1990
Find Out More »
Ipswich Archive Signposting Document
summarising both the Excavation Archive and Urban Archaeology Database projects to highlight the research potential of the archive
---
Archaeological Research in Ipswich
a look back at past investigations
Discover More »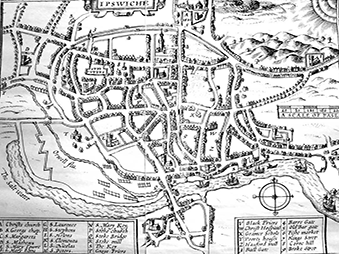 Urban Archaeological Database
a database of archaeology in Ipswich
Discover More »