Archaeological fieldwalking is the systematic collection and recording of artefacts found on the surface of ploughed fields. It is a very simple, non-invasive and useful method to assess the archaeological potential over a large area. The artefacts collected from the field's surface can give us a hint as to what archaeology might be in the area.
Follow the guidance below to help you plan an effective fieldwaking survey.
Plan your project
Before you start, it is important to do your research and planning so you are clear about what you are doing, how you are doing it and why. Remember you must obtain permission from the landowner and tenant before starting.
See our advice on Planning an Archaeological Project.
When and Where?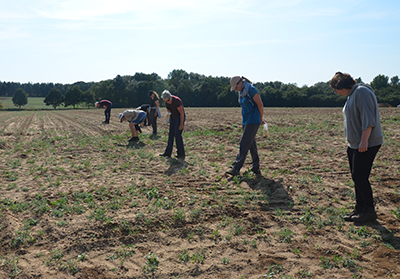 What to collect?
Further Guidance
Template Fieldwalking Record Chart, SCCAS [Download PDF]
Step by Step Guide to Fieldwalking, JIGSAW Project, Cambridgeshire [View on jigsawcambs.org (PDF)]
What is Fieldwalking?, Cambridge Archaeology Field Group (2012) [View of cafg.net (PDF)]
Field Survey, Fieldwalking and Detecting Survey, Guide 15, British Archaeological Jobs Resource (2008) [View on bajr.org (PDF)]
---