The modern town of Ipswich is built on over 1,000 years of urban activity, a monument to the craftsmanship and culture of a diverse and resilient region. As well as being internationally important for its contributions to our understanding of North Sea trade networks in the Anglo-Saxon period, the ground beneath Ipswich borough has also yielded nationally important assemblages of Palaeolithic material, evidence of high-status Iron-Age activity, and the largest Roman villa yet discovered in Suffolk.
A Saxon Town and Port
As one of only four international ports in the Middle Saxon (650-849 AD) period, Gippeswic was a place of intensive production and cultural contact. The modern town centre of Ipswich, centred at Ordnance Survey grid point TM 1590 4060, lies on the site of this Middle Saxon predecessor. Excavations carried out at 34 different sites between 1974 and 1990 uncovered evidence of a thriving town, with many of Ipswich's streets having been continuously occupied since the 7th century. The well-preserved archaeology in the area has allowed us rare glimpses into the lives of the merchants and families who lived there, from wells fashioned from wine barrels originally imported from the Rhineland, to a basket of Anglo-Saxon bread.
Scandinavian Invasion and Ipswich's Decline
Ipswich was also a place of change. The Scandinavian invasion of 865 AD resulted in permanent settlement by Guthrum and his followers in East Anglia. During this period, Ipswich was fortified for the first time and craft activity intensified, producing Anglo-Scandinavian brooches alongside local pottery. Ipswich was conquered by Wessex in 920 AD and growth slowed. By the time of Domesday survey in 1086, the town was in steep decline. This dramatic change in fortune was likely the result of a failed rebellion against Norman rule. During this period many buildings were burnt down, preserving carbonised architectural details for future archaeologists that would otherwise have been lost. The later Medieval town that emerged in the 13th century retained its trading character, as well as looking inwards, acquiring five new churches, two friaries and a leper hospital in the urban centre.
Managing and Recording the Archaeology
Historic towns and cities are highly sensitive archaeological sites, where buried features, finds and standing monuments form a unique and irreplaceable record of a settlement's unwritten history. As a historic port, aspects of the archaeological record in Ipswich are nationally important.
The Supplementary Planning Document, adopted by Ipswich Borough Council in November 2018, highlights the considerations and processes for the management of archaeological remains through the development process. This work was funded by Historic England. It should be read alongside the policies of the Ipswich Local Plan. It is relevant to archaeological remains of all dates and types across the borough, and will help developers and homeowners planning development projects.
---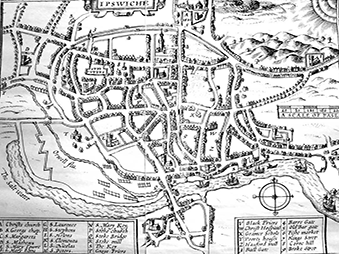 Urban Archaeological Database
a database of archaeology in Ipswich
Discover More »
Archaeological Research in Ipswich
past investigations in the town
Discover More »
Ipswich Archive 1974 - 1990
34 excavated sites in the historic town
Discover More »