Before you start a project, it is important to do your research and planning so you are clear about what you are doing, how you are doing it and why.
Here is some advice and templates to help you get started. See here for specific advice on Metal Detecting.
Research
Have you done your research? The first step of any project is to research the site and area to understand its archaeological potential.
Do you have appropriate research aims? What questions are you trying to answer and why? Research aims will give your project a structure. They can be broad, such as to put a known archaeological site into its landscape context, or very specific such as to ascertain the date or function of an individual ditch or feature on a site.
The East of England Regional Research Framework for the Historic Environment, presents a series of period-specific Resource Assessments, which provide updates on fieldwork and research undertaken since the last Framework review. Each Resource Assessment is complemented by a Research Agenda, which sets out a number of new questions to guide research during the next ten years.
Techniques and Methods
What are the best archaeological techniques and methods to use to help you answer your research questions?
Think about the current preservation of the archaeology. Is the archaeology protected under grass or is it being damaged? If the archaeology is undisturbed and not at risk then it is better to preserve the archaeology in situ.
Archaeological excavation is destructive and so if the archaeology is not at any risk there are many other useful non-intrusive survey methods to consider, such as fieldwalking or geophysics, which can yield a surprising amount of information without putting a spade in the ground. Even if excavation is appropriate we recommend that these non-intrusive survey techniques are employed first to inform any excavation plans and allow any interventions to be targeted to answer specific research or land management questions.
Resources
Do you have the training and enough resources to effectively conduct an archaeological investigation?
It is best to undertake an archaeological project with support from a local archaeology group or a local commercial archaeological unit, and to consult the County Archaeological Service for advice.
Remember to allow plenty of time and budget to properly record and analyse the results, especially if you plan to do any excavation. If this is the case, you are likely to need to hire professional specialists to analyse the finds or process environmental samples. Prepare for the possibility for conservation work and make sure you have plans for archiving and to displaying artefacts.
Permissions and Landowner Agreements
Do you have permission from the landowner?
You must obtain permission from the landowner and tenant (both should be consulted) before starting any fieldwork. This includes land which is publicly accessible, such as beaches, footpaths, or council-owned land.
Ask the landowner if their land is subject to land management schemes and to check if the fieldwork infringes the terms of the scheme. If this is the case, the landowner will need to request a derogation from Natural England.
Check with the landowner whether there are any environmental designations (e.g. Site of Special Scientific Interest) and especially any Scheduled Monuments on or near the proposed area, which would need to be avoided. It is illegal to undertake any survey or excavation affecting a Scheduled Monument without written consent from Historic England and the Secretary of State. Consultation of the MAGIC website will help identify any other designations or protections on a site.
Finds Ownership
Do you have an agreement with the landowner?
You will need to agree the terms of the ownership of finds in writing with the landowner, as legally all objects belong to the landowner, excepting treasure as defined by the Treasure Act 1996. It is a legal obligation to report all finds of Treasure to the Coroner within 14 days. The Suffolk Finds Recording Team can help with this.
Speak to the landowner about whether they will agree to donate the artefacts to a local museum or allow the excavation archive to be deposited with the County Archive. SCCAS is the main archive repository in Suffolk, so get in touch with us an an early stage to discuss deposing your archive.
Dissemination
What are your plans to record the fieldwork results?
It is important to record the results of your fieldwork, so that they can be accessed for future research.
Objects found while metal detecting should be recorded with the Portable Antiquities Scheme. Survey and excavations should be written up into a report so that a record can be deposited with the Archaeological Data Service and the Suffolk Historic Environment Record. Other ways to share the results of a project include writing short updates for the Suffolk Heritage Explorer blog and an entry in the Proceedings of the Suffolk Institute of Archaeology and History.
The SCC Archaeological Service can advise further.
Project Design
Once you have considered all the above it is best to document it all in a Project Design so that everyone involved understands what they are doing, how they are doing it and why.
In Suffolk we recommend that all archaeological projects have a project design - a what, where and why document.
Please notify the SCC Archaeological Service of your project and send us your project design before you start.
We will then issue you with a unique Historic Environment Record number for your project. This number is for use on all site records and post excavation work and locates and identifies your project in the Suffolk HER.
Download the Project Design Template (PDF) »
Please also deposit your final report with the Suffolk HER using your unique HER number so that it is available for future research.
SCC Archaeological Service can advise you throughout your project
Please notify us of your plans before you start and to request an HER number. We can also give advice on recording the results on the Suffolk Historic Environment Record. Call 01284 741230 or email archaeology@suffolk.gov.uk
---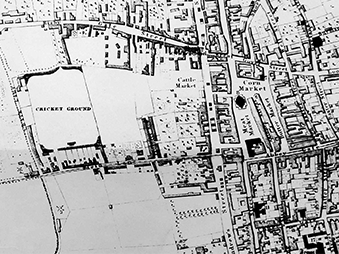 Research the area
links to resources and the Historic Environment Record
Discover More »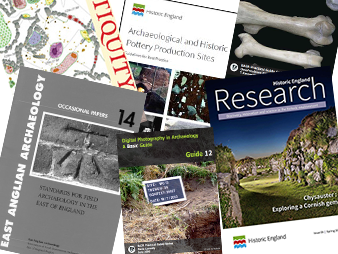 More Guides and Resources
links to other guides for further reading
Discover More »