Archaeology News in Suffolk - E-newsletters
An e-newsletter by Suffolk County Council Archaeological Service featuring a collection of archaeological news, projects and events in Suffolk.
Browse the e-newsletter archive »
Archaeology of the Suffolk Coast
A series of reports describing the historic environment of the coastal zone with the aim of informing future management. The reports follow the programme of work undertaken by English Heritage (now Historic England), National Mapping Programme and Suffolk County Council Archaeological Service to record coastal archaeology which is at risk from coastal erosion. The project consisted of aerial photography, assessment of historic maps and a field survey of the intertidal zone
A Survey of Suffolk Parish History
A Survey of Suffolk Parish History summarises the history of each parish in the county. It touches upon every part of local history including administration, landscape, social, religious and economic characteristics, and covers a time span from the earliest archaeology to modern times. The survey was researched by Wendy Goult in the late 1980s and was first published in 1990.
East Anglian Archaeology
East Anglian Archaeology (EAA) is an academically refereed series of reports on the archaeology of an English region. The first report was published in 1975 and there are now more than one hundred and eighty titles in the series.
Browse all the reports on eaareports.org.uk »
Ipswich Resources
A list of publications and useful links on the archaeology of Ipswich, as well as a guide to historical sources
Proceedings of the Suffolk Institute of Archaeology and History
The Proceedings are published by the Suffolk Institute of Archaeology and History (SIAH). It is the society's annual journal, containing papers on the archaeology and history of Suffolk. Since 1978, Suffolk County Council Archaeological Service have contributed to the 'Archaeology in Suffolk' section of this publication with an annual round-up of archaeological fieldwork and finds. SIAH has digitised the Proceedings publications from 1869 to 2015
Browse all the Proceedings on suffolkinstitue.org.uk »
You can find earlier years published in the Proceedings here »
Rendlesham Resources
A collection of resources about Rendlesham, which is an internationally important early medieval (5th to 8th century) estate and royal settlement. There are reports, articles, podcasts, family activities and classroom resources.
Second World War Guidebooks
A series of four guidebooks to Suffolk's Second World War archaeology, researched and written by Dr Robert Liddiard and Dr David Simms (University of East Anglia). Together they help readers to discover, appreciate and enjoy the physical remains of that conflict that still lie in the county's countryside, with descriptions and suggested walking trails.
---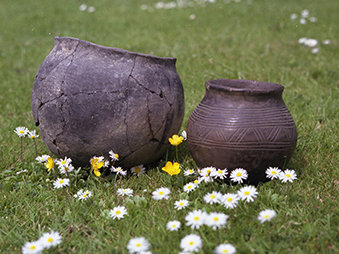 Useful Resources
information, publications and documentaries
Discover More »