This community archaeology project, taking place 2020-2024, will explore the irreplaceable archaeology of the Deben valley. It follows on from a pilot project undertaken at Rendlesham in 2008-2017, which uncovered evidence of the Anglo-Saxon royal settlement. This settlement first, recorded by Bede in the 8th Century, is where East Anglian kings would have stayed, feasted their followers, administered justice, and collected dues and tribute.
The Rendlesham Revealed project will take a landscape-scale approach to broaden our understanding and context about the royal settlement site by also investigating the lesser known sites in the Deben valley.
Local people will be able to directly participate with opportunities for volunteering and training in on-site archaeological survey and excavation, which will take place at Rendlesham and elsewhere in the Deben valley.
We will also bring the archaeology to the local community of south-east Suffolk and Ipswich, via hands on experimental archaeology, specialist and family workshops, guided walks and small exhibitions.
The Rendlesham site is on private farmland and has no public access. For updates or to get involved in the project, sign up to our e-newsletter below.
Funded by:
The National Lottery Heritage Fund, Institute of Archaeology at University College London, Suffolk Institute of Archaeology and History, Sutton Hoo Society, Council of British Archaeology East, East Suffolk Lines Community Rail Partnership, Community Rail Network Fund, Discover Suffolk.
---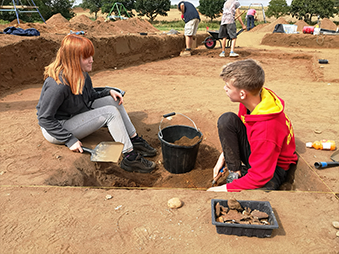 Community Fieldwork
the latest updates and how to get involved
Discover More »