The Deben valley in south-east Suffolk is in the heart of the early East Anglian Kingdom. The valley is home to the princely burials of Sutton Hoo and the site of the royal settlement at Rendlesham.
Since 2008, the Archaeological Service have co-ordinated archaeological survey and excavation at Rendlesham. It has uncovered evidence of the 5th to 8th century settlement, which was first recorded by Bede in the 8th Century.
Archaeological investigations continue, as part of a community archaeology project, Rendlesham Revealed: Anglo-Saxon Life in South East Suffolk, taking place 2020-2023. This project will continue the work at Rendlesham and also explore the as yet unknown archaeology hidden further down the Deben valley, to put the site into the context of the wider early medieval communities and landscapes of which they were part.
The Rendlesham site is on private farmland and has no public access. For updates or to get involved in the project, sign up to our e-newsletter.
---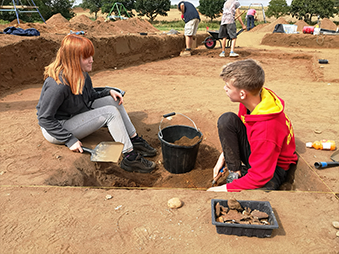 Community Fieldwork
the latest updates and how to get involved
Discover More »
Experimental Anglo-Saxon Kiln
building an Ipswich ware kiln
Discover More »
Responsible Archaeology
Guidance and best practice for archaeological projects
Discover More »