---
Archaeology News in Suffolk
---
A collection of archaeological news, projects and events in Suffolk from Suffolk County Council Archaeological Service
Welcome to our e-newsletter for July 2022
---
---
Featured Projects - Rendlesham Revealed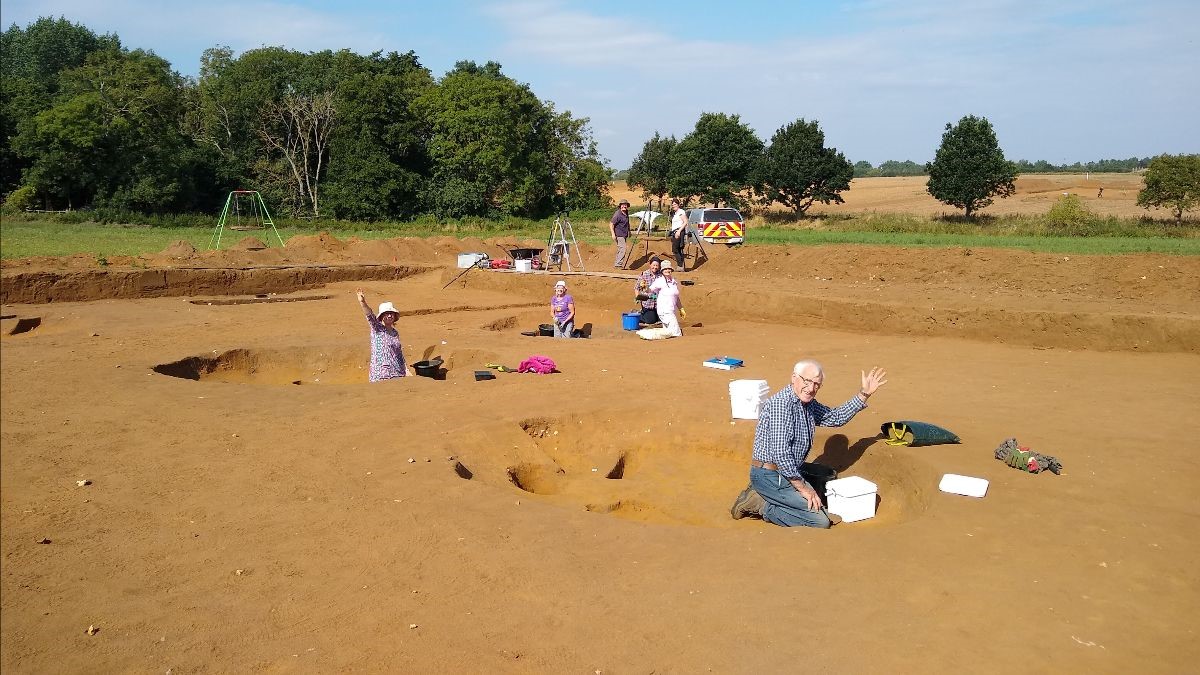 Image: Volunteers at Rendlesham in Summer 2021.
Rendlesham Revealed: Anglo-Saxon Life in South-East Suffolk
Join the Archaeological Excavations 2022
The archaeological excavations at Rendlesham will be once again be taking place this August and September. This summer is the second season of excavations and this time we will be investigating an area where there is evidence of a major timber hall and settlement dating from the later 6th century.
Book your space now to investigate this unique site with us; you will be working as part of a team led by professional archaeologists, receiving hands-on training and experiencing real-time discoveries.
This year you can volunteer to be part of the excavation or the finds processing teams. To volunteer with the excavations, you will need to be physically fit, as there will be a lot of earth to dig and sieve. Finds processing will take place on site next to the excavations and is less physical, involving cleaning, sorting and marking the excavated artefacts.
Tickets for each activity will be sold separately. There is a small charge of £5 per person per day to attend. This contribution will help towards the cost of training.
Suitable for ages 12+ (under 18yrs must be accompanied by a paying adult).
Booking is essential as spaces are limited and in high demand. Please note that the site is on private land with no public access.
Public Tours - Excavations 2022
At the end of the excavation season, the team will hold a series of public tours, which will take place on Saturday 17th September and Sunday 18th September 2022. The professionals will give a tour of the archaeological trenches, explaining what has been discovered over the season.
Advance booking only. Tickets for the public tours will be available from 2nd August 2022 at https://heritage.suffolk.gov.uk/rendlesham-excavations-2022
---
---
Upcoming Events
New Exhibition at Moyse's Hall Museum
Friday 1st July to Friday 30th September
Free (no booking required)
A special free exhibition entitled 'The Abbey of St Edmund: Artisan and Pilgrimage in the Liberty of St Edmund' has now opened at Moyse's Hall Museum. This exhibition will showcase the beauty and gravitas of St Edmunds' Abbey, as well as explore the people that travelled great distances to see the tomb of the martyred king.
The museum are planning an evening lecture programme as well as family craft workshops to run throughout the summer holidays.
For more information visit: https://www.moyseshall.org/whats-on/
---
---
Finds Recording in Suffolk
Image: Bronze Age Arm Guard
Featured Find - Bronze Age arm guard
This Bronze Age arm guard was recovered by a local metal detector user in 2021 from near Debenham. Arm guards were used during archery to ensure that the archer's wrist was protected from the bow string as it snapped back after firing. This example is made from sandstone and you can see the marks left by an archer's bowstring.
If you have recently found an archaeological object in Suffolk which you'd like identified and recorded, our Finds Recording Team can help. Find out more about Finds Recording here.
---
---
Archaeology in Development
Image: The upper vessels in the firing chamber of the Roman kiln © Archaeological Solutions ( now Wardell Armstrong)
Roman pottery production at Lavenham
Archaeological excavation on the edge of Lavenham at Bears Lane revealed evidence of two phases of Roman activity dating from the 1st to 3rd Century AD, including well preserved evidence for pottery production. This site makes an important contribution not only to studies of Roman pottery production but also to understanding of Roman activity in Lavenham, whose medieval history is much better understood.
The on-site fieldwork completed in 2019 ahead of housing development, and the post-excavation work has only recently finished. Suffolk County Council's Archaeology Service oversaw the excavation, which was carried out by Archaeological Solutions (now Wardell Armstrong), ahead of development by Marden Homes.
---
---
---
---
Thank you for joining our e-newsletter, for those who are new, here's a brief summary of what we do.
We are the main provider of archaeological advice in Suffolk and to promote the conservation, enhancement and understanding of Suffolk's distinctive historic environment, we:
maintain a record of archaeology and heritage assets, the Historic Environment Record
provide advice to planners, developers and farmers
identify and record finds made by members of the public
curate an archive for fieldwork projects carried out in the county
publish the results of fieldwork and other research into Suffolk's past
---
---