---
Archaeology News in Suffolk
---
A collection of archaeological news, projects and events in Suffolk from Suffolk County Council Archaeological Service
Welcome to our e-newsletter for April 2022
---
Upcoming events!
Rendlesham Revealed Celebration Event
Friday 20th May
Drop in, 11am-3pm
Free (no booking required)
at the Corn Exchange, King Street, Ipswich, IP1 1DH
Join us to celebrate all the hard work carried out by our volunteers and project partners over the past year.
Speak to the experts and discover the results from the archaeological fieldwork undertaken at Rendlesham during 2021 and get up close to some of the 1,400-year-old excavated artefacts.
Our Finds Recording Team will be there to answer any questions about artefacts - if you have found any archaeological objects bring them along and the team can help identify it.
Many local organisations will also be attending with display stalls, including Ipswich Museum, Sutton Hoo, Suffolk Institute of Archaeology and History, the Suffolk Archaeological Field Group, Suffolk Archives and many more!
For more information, updates and to see the schedule of presentations visit: heritage.suffolk.gov.uk/rendlesham-celebration-event-2022
---
The Rendlesham Show
Saturday 11th June 2022
Drop in, 11am - 5pm
Free (no booking required)
We will be joining the Rendlesham Show this year with a display on the recent Rendlesham fieldwork along with some of the excavated artefacts.
Our Finds Recording Team will also be bringing their handling collection of archaeological objects and will be happy to answer any questions about artefacts you may have found in Suffolk. If you have found any archaeological objects recently, bring them along and our finds recording team can help to identify them.
This is an annual event organised by Rendlesham Parish Council.
For more information, visit rendleshamshow.co.uk
---
---
Featured Projects - Rendlesham Revealed
Image: Animal bone from Rendlesham packed to send to the specialist.
Rendlesham Revealed: Anglo-Saxon Life in South-East Suffolk
Behind the Scenes: Post-Excavation Processing
Our volunteers have completed the post excavation processing work ready for the relevant specialists to analyse. Over 20kg of material has been cleaned, marked and quantified and the site information is all recorded onto the site database.
The specialists are now completing their analysis and their reports are beginning to show some interesting results. Keep an eye out on our website over the coming months for updates.
Volunteering in 2022
The next season of archaeological excavations will take place in August and September 2022 and local people will again be able to volunteer. Bookings will open to the public in July, this will be advertised in the Archaeology News in Suffolk e-newsletter nearer the time.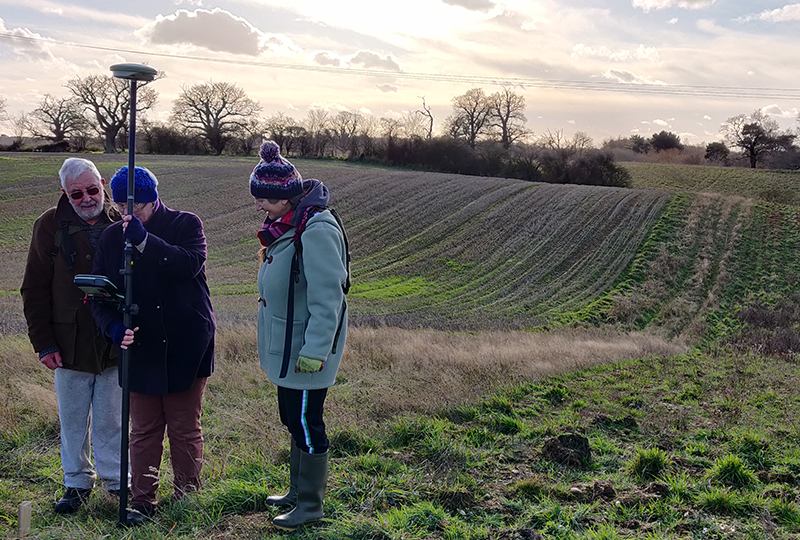 Image: Volunteers practicing to use the GPS device.
In the field for GPS training
The Rendlesham Revealed project have recently purchased a GPS device, called a GNSS RTK Rover (Global Navigation Satellite System), and in January, several volunteers were trained to use a GPS (Global Positioning System) device to set out a survey grid in south-east Suffolk.
The aim of the training was to upskill volunteers to use the GPS for their own archaeological projects, as part of the local archaeology group "The Suffolk Archaeological Field Group". The group investigate archaeological sites in Suffolk, through documentary research, fieldwalking, metal detecting, geophysical surveys and small excavations. They receive training and regular advice from Suffolk County Council Archaeological Service.

---
---
Featured Projects - Brecks Fen Edge and Rivers Landscape Partnership
Image: Volunteers reviewing the initial results after conducting the geophysical survey.
Brecks Fend Edge and Rivers Landscape Partnership
Geophysical Survey at West Stow Country Park
In October 2021, volunteers were trained to carry out a geophysical survey in the areas surrounding West Stow Anglo-Saxon Village and Country Park. The training was led by Phase Site Investigations and co-ordinated by Cotswold Archaeology.
Phase Site Investigations have now completed the analysis of the data, which have revealed some very interesting results, including a possible Roman road.
---
---
Finds Recording in Suffolk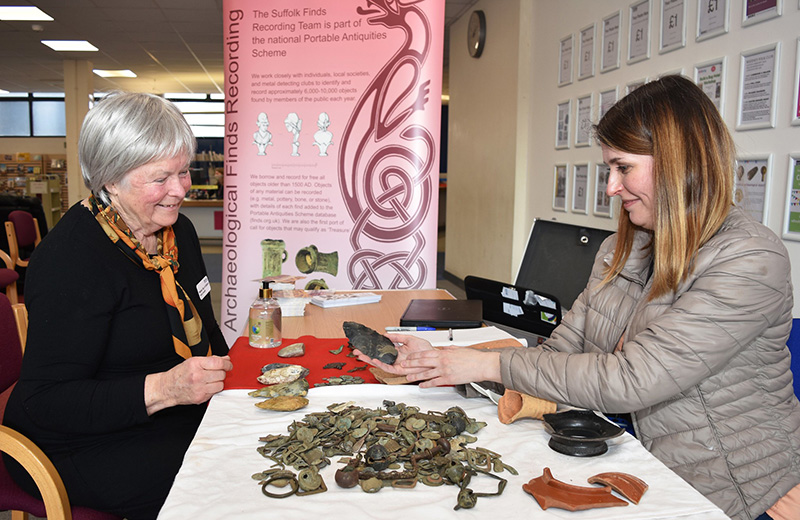 Image: Cllr Melanie Vigo di Gallidoro and Anna Booth at the Lowestoft Finds Day with a replica of the Neolithic axe © Mick Howes
Rare 4,500 year old axe turns up at event in Lowestoft
Last month, our Finds Recording Team held a Finds Day at Lowestoft Library. They met dozens of local residents who brought in their recent archaeological discoveries from Suffolk, including Roman coins and a flint axe.
The star find was a knapped stone axe from the late Neolithic period found by a member of the public in North Suffolk.
Similar events will be held elsewhere in Suffolk throughout the year, and members of the public are always welcome to contact us if they think they have found an archaeological object.
The Finds Recording Team will be at the following events:
If you have recently found an archaeological object in Suffolk which you'd like identified and recorded, our Finds Recording Team can help. Find out more about Finds Recording here.
---
---
Archaeology in Development
Image: view of excavation area, looking north. Prehistoric enclosure in the left foreground and the Roman enclosure in the right background © Archaeology South-East
Multi-period site uncovered at Candlet Road, Felixstowe
Archaeological excavations in Felixstowe uncovered remains dating to the prehistoric, Roman and post-medieval periods. The majority of features were Roman, including a large quarry pit in which worked timbers were found at the base.

The fieldwork completed in January 2022 ahead of housing development, and the post-excavation work is underway. Suffolk County Council's Archaeology Service oversaw the excavation, which was carried out by Archaeology South-East, with RPS Group acting as archaeological consultants, ahead of development by Persimmons Homes.
---
---
---
---
Thank you for joining our e-newsletter, for those who are new, here's a brief summary of what we do.
We are the main provider of archaeological advice in Suffolk and to promote the conservation, enhancement and understanding of Suffolk's distinctive historic environment, we:
maintain a record of archaeology and heritage assets, the Historic Environment Record
provide advice to planners, developers and farmers
identify and record finds made by members of the public
curate an archive for fieldwork projects carried out in the county
publish the results of fieldwork and other research into Suffolk's past
---
---